President attends virtual unveiling of the Pacific Islands War Memorial
March 27, 2021
The unveiling ceremony was hosted by the Prime Minister of New Zealand Rt. Hon Jacinda Arden, livstreamed from the Pukeahu National War Memorial Park in Wellington, New Zealand.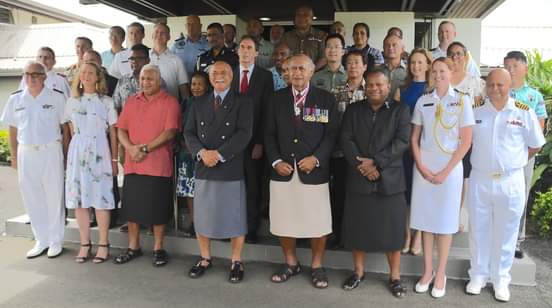 His Excellency with other guests at the unveiling of the Pacific Islands War Memorial held at the Official Residence of the New Zealand High Commissioner in Suva.
President Konrote attended the event at the invitation from the New Zealand Defence Force in concurrence with the New Zealand High Commission recognising and acknowledging the close mutual relationship between Fiji and New Zealand.
The Pacific Islands Memorial (Te Reo Hotunui o Te Moana-nui-a-Kiwa) represents New Zealand's continuing friendship with the Pacific Islands and the service of Pacific Islanders in support of New Zealand in the two World Wars and miscellaneous support thereafter.

The name Te Reo Hotunui o Te Moana-nui-a-Kiwa recalls the conch shell left in the Arras Tunnels by Kuki Airani (Cook Island) soldiers of the New Zealand Tunnelling Company and the New Zealand (M?ori) Pioneer Battalion, who were stationed beneath the town of Arras from 1916 to 1918.

The design represents a bronze conch shell; a representation profoundly entrenched in Pacific cultures, which will have a coating finish with remembrance poppies. The design was selected by an expert judging panel following a national design competition selecting artists Michel Tuffery MNZM and Herriot, Melhuish and O'Neil Architects.

The Pacific Islands Memorial is a joint initiative of the Ministry for Culture and Heritage, the Ministry for Pacific Peoples and the Ministry of Foreign Affairs and Trade, with support from the New Zealand Institute of Architects.

The momentous event was also attended by Fiji's Prime Minister the Honourable Voreqe Bainimarama, Speaker of Parliament, His Excellency Ratu Epeli Nailatikau, Fijian Minister for Defence, Honourable Inia Seruiratu and respective members of the Diplomatic Corp and the National Defence Force of Fiji, New Zealand and Australia.